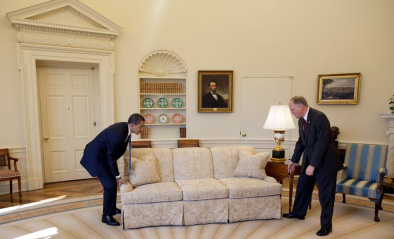 I'm sure we've all seen the old comedy stereotype of a guy throwing out his back trying to lift a sofa.  Heck, maybe you have thrown your back out lifting a sofa.  Regardless, you can avoid that with some great new tools designed to make the sofa moving process a little less painful.
Moving Dollies
Available at almost any home convenience store, a moving dolly is by far the easiest way to move a couch (this is assuming of course that you've got the room).  To use a moving dolly, have one person lift the end of a couch, while someone else slides the dolly underneath the couch's center.  Let it down slowly and roll away.
The Moving Dolly will not be useful if you have to maneuver through lots of twists and turns, tight spaces, or stairs, so keep some other options in mind.
Forearm Forklift
Forearm forklifts are adjustable straps that attach to your forearm to help balance and move items that might weigh up to 500 pounds.
Check out this video to get an idea of how these work:
Lifting Straps
Most other lifting straps are quite similar in nature to the forearm forklift, except they connect to your shoulder and back areas.  They're helpful for navigating through tight spots and also decrease the potential for injury or damage to your walls and floors by offering extra control.
Do you have any special method for lifting couches that we haven't mentioned here?  If so, leave us a comment and let us know.