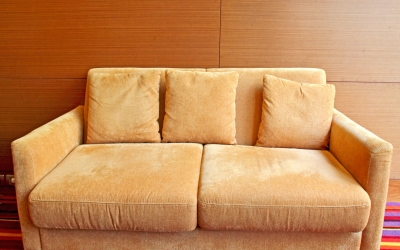 Note: Flame retardant chemicals are not used in any Contempo Sofa products
In 1975, California State legislators passed a bill titled TB 117 which required sofa manufacturers to treat sofa foam with a wide variety of flame retardant chemicals.  The law, it turns out, appears to have done more harm than good.
According to chemist Arlene Blum from the University of California, Berkeley, these chemicals "don't just stay inside the sofas.  They turn up in household dust and can be detected in human blood and breast milk."
So the chemicals get into human bodies, but do they have any negative effects?  Apparently yes, according to a report by Amy Standen from KQED.
Linda Birnbaum, director of the National Institute of Environmental Health Sciences, says some flame retardant chemicals "can affect the reproductive system, nervous system" and more specifically cause "infertility, low-birth weight and abnormal brain development in children."
The chemicals' ability to enter and remain in human bodies is evident in California state residents, according to a report by New American Media, who "have some of the highest levels of flame retardants in their bodies."  Higher levels of flame retardants were found particularly in residents from low-income communities where the presence of second-hand or cheaply made furniture and poor home ventilation put residents at greater risk.
The amount of time these chemicals might remain in human bodies is uncertain, though research conducted by Ami Zota from the University of California, San Francisco found that a chemical banned by the state of California was still present in pregnant women from Salinas Valley, California, which suggests that these chemicals may remain omnipresent for several years even if their use is abolished by new legislation.
"Once we stop the future production [of furniture with flame retardants], then we have the bigger problem: how to get rid of this stuff and dispose of it," said Andrew McGuire, policy director of the Green Science Policy Institute.  "We're already experiencing the problems with cleaning up asbestos.  It's a huge problem, very costly and takes decades.  This is going to be asbestos on steroids."
Photo Credit: Nuchylee