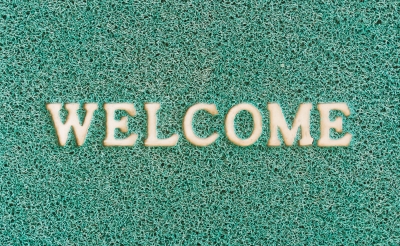 It can be nice to have visitors for a little while and it's always fun to host visiting friends and family on the couch for a few days.  Below are a few tips to help everyone feel a little more comfortable during the visit.
Immediately prepare a space for their luggage.  Everyone will feel more at ease if you can keep the luggage tucked out of sight for most of the trip.
Relax and be yourself.  No one is expecting you to have the perfect home so don't try and pretend for your guest's sake.  Be courteous and clean, but don't give yourself the extra burden of trying to turn your home into a 5-star resort.
On that note, let your guests be themselves, too.  When traveling and staying in someone else's home, you'll find that most guests will do their best to live according to your standards, but that doesn't mean you shouldn't try to let them know you respect their habits, too.  Let them have control of the remote, choose a meal and accommodate things like exercise routines or sleep schedules, especially if you're letting them sleep on the living room sofa.
Keep extra supplies such as towels and toiletries ready in case anyone forgot anything.  Also, make sure they know where to find simple things like extra snacks, soap, water, toilet paper, etc.
Let them help out.  While everyone is happy to save money and stay with friends instead of buying a hotel room, that doesn't necessarily mean they want to stay for free.  Make your guests feel like they're earning their stay and let them help out with simple chores.  Don't make demands or put your guests to work, but if they ask if they can help out, by all means let them.
Hopefully, these tips can help make your guest's stay a little more comfortable and help you relax a bit with your visitors.  Do you have any other advice for comfortably hosting guests?
Photo Credit: Stoonn