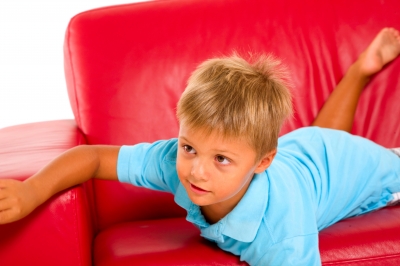 Buy a kid-proof sofa.  Just do it.  If you've got children or even if you don't have children but your in-laws like to bring your nieces and nephews over every now and then, just do yourself a favor and buy a sofa that can stand up to the rigors a child might wage against it (e.g. rough-housing, messiness, etc.)
Here's what you should look for in a kid proof sofa:
Stain-Resistant
If you can't find something with stain guard treatment, at the very least go with a dark color that won't stain too easily.  If you absolutely have to go with white, try an offshoot like beige or crème, which won't be as susceptible to stains.
Durable
You know what kids love to do?  Jump.  What do they love to jump on?  Couches.  Make sure the couch you buy will be able to stand up to the amateur onslaught.  Get a sofa with a hardwood frame and removable cushions for easy cleaning.
Covering
Your best bet to avoid the mess is keep your sofa covered whenever the kids are around.  Blankets, sheets, and slip covers are all available options.  Just make sure that whatever you use is machine washable/inexpensive.
Do you have any other ideas to help keep a sofa kid-proof?
Photo Credit: Ambro