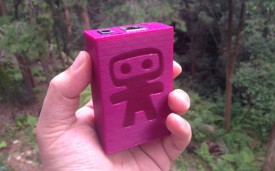 Well here's a fun idea.  According to Mashable, a young Internet startup called Ninja Block has developed a "little computerized, sensor-equipped box."  These boxes "connect to the Internet to carry out a preset response to stimuli."
The creator of the project, Mark Wotton, first used his Ninja Block concept to catch a newspaper thief.  Someone had been taking Wotton's morning paper, so he set up a small Ninja Block equipped with a motion detector outside his door to automatically take photos of the paper thief and upload them directly to Facebook.  Boom. Ninja Blocked.
Wotton says that the blocks don't have any specific use yet and "chances are people will have good ideas [for the devices] we've never thought of."
One of our favorite ideas so far is to use the Ninja Block as a sofa alarm for sneaky pets.  Simply set up a Ninja Block in the couch cushions and whenever something moves on the couch, the Ninja Block will set off an alarm.  Boom.  Ninja Blocked.
What would you use Ninja Block for?
For more information on Ninja Block, visit them online here.