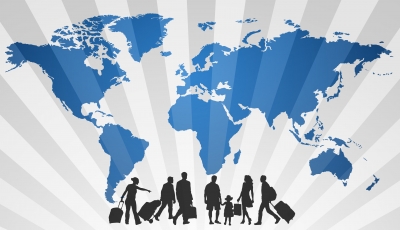 Couch surfing, or the practice of sleeping on a stranger's couch in lieu of purchasing hotel or hostel lodgings while travelling, might sound like a dangerous idea to some, but the growing SF-based network couchsurfing.org thrives on the notion that people everywhere are just happy to make a new friend.
Counting millions of members in over 230 countries around the world, Couch Surfing has grown into a global community dedicated to fostering intercultural exchange, understanding, and friendship.
"Couch Surfing has opened up a whole new way of life for me," says Cody Kirkhart of IL.  "It allowed me to make unforgettable connections with people around the world that would never have happened otherwise."
The system, at its core, is pretty simple.  People from all around the world register on the site, allowing travelers to connect with locals in order to find a place to stay overnight.  Different hosts screen their guests differently (some like older travelers,  require travelers to bring their own sheets, or limit stays to three nights), and detailed member profiles allow travelers to connect with hosts that might better suit their age and interests.
But the organization is about far more than free lodging.  On their website, Couch Surfing claims they are dedicated to creating "Inspiring Experiences," or "fun, exciting, and accessible experiences that stimulate people to learn and grow." And as one Surfer notes on Huffington Post, Couch Surfing is "a community of like-mind people…open-minded and young at heart, who love to travel and meet travelers and share experiences."
The organization has earned praise from several major media outlets including The New York Times, TIME, NPR and The Guardian, as well as independent bloggers and publications.  The organization takes safety very seriously, offering tips, member reviews and frequent safety updates to keep users informed and aware.
What do you think about Couch Surfing?  Is it a source for intercultural exchange and communication or just a community for the Super Hippie 2.0 crowd?
Photo Credit: Idea Go