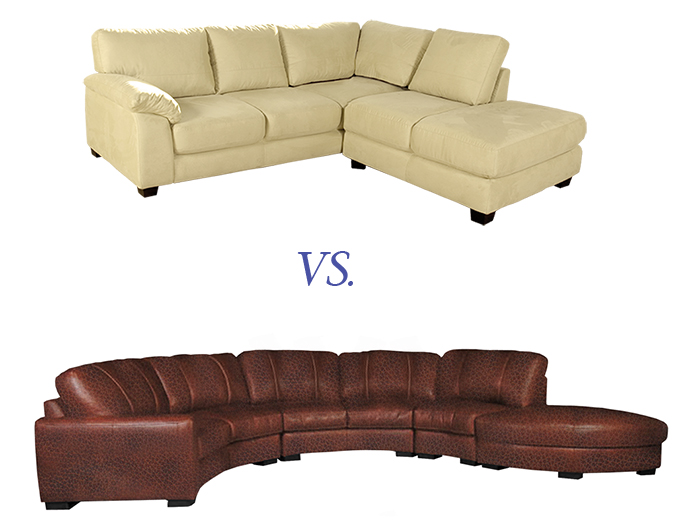 At Contempo Sofa, we upholster our sofas with two materials: leather or microfiber.  While both look great, the two materials each come with their own unique set of pros and cons.
For example, if you or anyone in your family struggles with allergies, a microfiber sofa wouldn't be the best idea.  Microfiber sofas are made up of millions of tiny fibers, which act as a great settling point for dust, pollen and other allergens.  Leather on the other hand is strictly made from dried animal hide and does not capture nearly as many allergens as microfiber.
On that note though, do bear in mind the big difference in materials.  Microfiber is a synthetic material whereas almost all fine leather comes from animal skins.  If you or any of your loved ones are vegan or animal rights conscious, a leather sofa might become a bitter issue in the home.  Keep everyone happy and get a synthetic microfiber sofa if that's the case.
Speaking of animals, keep your pets in mind, too, when making this choice.  If your furry friends like jumping all over the furniture, consider what their paws might do in terms or rips, tears and soil.  Microfiber will tear far more easily than leather and is more likely to trap animal hair.  And if you're worried about extra wear and tear from kids, bear in mind that leather is typically more durable than microfiber, and darker tones are less likely to show soil and wear.
If you live in a warm climate though, remember that a leather sofa and sweat is not a good match.
Finally, microfiber sofas are generally less costly than leather sofas.  However, before that becomes your deciding factor, bear in mind this statement from a commenter on an Apartment Therapy poll regarding the microfiber's stylistic legacy:
"In a few years, Microfiber upholstery is going to say "Late 2000′s" as badly as pastel abstract print sofas say "80′s" and Denim and Khaki sofas say "1990′s"